Main Menu
Survey
Search
Random Headlines
Categories Menu
New Reviews
New Articles
---
"Dejeme decirle, a riesgo de parecer ridiculo, que el revolucionario verdadero esta guiado por grandes sentimientos de amor."
"Let me say at the risk of seeming ridiculous, that the true revolutionary is guided by great feelings of love. "
Che Guevara

The Hippies Were Right!

Check out our 500+ Free Speech Forums as well as the Personal Forums.
Hippies From A to Z
by Skip Stone. Skip's book highlights the people and events of the Hippy Movement. A great resource for hippies and students. Sorry but Skip's book is now sold out! But you can
Read it for FREE right here!
---
Skip's Corner
Editorials from the Webmaster of Hippyland.
Check out Skip's Travel Journal as he trods the hippie trail around the world!
---
Book Corner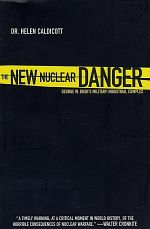 The New Nuclear Danger: George W. Bush's Military-Industrial Complex by Helen Caldicott

Helen Caldicott has been an anti-nuclear activist for decades. In her new book, she details the Pentagon's latest strategies for war and combating terrorism, and how these strategies are shaped by the needs of the Military/Industrial Complex and politicians, rather than the American people.

Especially frightening is how close we are to a nuclear holocaust at this time in history thanks to Bush's foreign policies, a revived nuclear weapons program and America's obsession with weapons of mass destruction.
---
THIS SITE IS INTERACTIVE!
You can participate by adding your own reviews, comments, stories or event listings.
You can sign up at Hip Forums and post in 500 free speech forums or visit
Hip Chat.
Don't forget to tell your friends about us!
Check out our Hip Galleries! Post your photos and images where everyone can see them. Free signup!
Be cool, Get your own HIP BLOG. A journal where you can keep track of your daily activities & post photos, etc.
---
Gift Shopping? Our POSTER STORE - has Thousands of Great Posters! Our new Calendar Store is packed with beautiful 2011 Calendars! Visit our Amazon Store! For Music, Books, Clothes, Toys, Electronics, & much more
---
Today's Events
Sorry, no events listed for today.
This site supports FREE SPEECH! Visit our
Forums
to have your say.
This site is intended for mature audiences and anyone seeking truth.
---